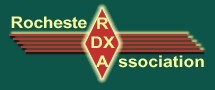 (est. 1947)
Welcome to the Rochester DX Association
****************************************
NYQP Update: The results for the NYQP have been posted to the NYQP website. Take a look at www.nyqp.org
***************************************************
Newsletter update: The Spring newsletter is available and posted here.
****************************************************************

Find us on the air –The ROC City Net is most Wednesday nights at 8:00 PM Eastern on 3.826 Mhz.(±)
The Rochester DX Association meets the 3rd Tuesday of every month from September through May except for December, which is the Annual Holiday Banquet. Meetings are open to everyone and all are encouraged to attend. Meeting programs are announced in the official RDXA news letter, on this website, or you can ask any club official.Monroe County EOC 1190 Scottsville Rd. Suite 200 Rochester, NY 14624
RDXA is a proud sponsor of the New York State QSO Party.
Webmaster: Carey Magee, K2RNY webmaster@rdxa.com